Feel Good Ingredients.
Lifestyle brand of self care products, handcrafted to bring you the feel good life you deserve.
Featured product
Violets are Blue
Regular price

Sale price

$10.00 USD
Made with lemongrass, butterfly pea flowers, rose petals and pink peppercorn, this earthy blend is a delightful treat. The magical blend steeps an intense blue, or you can steep it to violet by adding lemon for a twist! 
Caffeine level: None
Sold in 1.0 ounce
Suggested steeping instructions: Use 1 teaspoon of tea per cup of hot or 200-208°F water. Steep for 3-5 minutes. You may also store used tea in fridge to re-steep a 2nd time.
About Urblends
Nice to (virtually) meet you! I'm Katrina Price, owner and creator of Urblends. I created this brand with the intentions of inspiring others to relax, unplug, and indulge in a self care moment each day. For me, a nice brew of tea helps create  an energizing moment for affirmations in the morning, solitude for reflection in the evening, and everything in between. These blends are natural, crafted with ingredients that make you feel good, and inspired by things that make me feel good. I'm so excited to be able to share my little piece of happy with you. Enjoy your brew!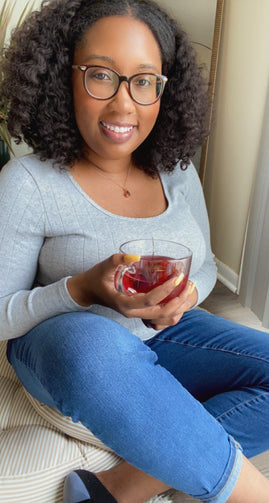 FAQ
Q: Does my tea expire?
A: Our teas will remain their freshest for 12 months, as long as they are sealed when not in use, stored in a cool environment, and the package is kept dry.
Q: When will my package ship?
A: Within 5 business days, your package will be shipped to you. Please allow shipping grace because of Covid. 
Q: Can any of these teas replace medications or cure ailments?
A: Although our teas may help to ease the blow of certain symptoms, this product is not intended to diagnose, treat, cure, or prevent any diseases. 
Q: I'm new to the loose leaf tea club! How do I use it?
A: Welcome to the bright side! Each package of tea has instructions on the back to tell you the recommended water vs tea ratio, along with the steeping temp and time. Don't forget to add 1 of our tea infusers to your cart, and check out our social media pages for tips and how to's!